Meet
Sheree Honeyfield-Smith
Kia Ora
ko - te maunga Hikorangi
ko - te awa Waipoua
ko - te iwi irish, scots, french, english
ko - te hapu Hogan, Campbell, Ellis and Stuart
ko - te kainga Patutahi
ko - Sheree Honeyfield tuku ingoa
tena tatou katoa
Professional background
Sheree Honeyfield-Smith is a member of the Hakomi Australia Association and is an active member of the Hakomi community in New Zealand.  She is also a trained counsellor, life coach, somatic therapist and mindfulness practitioner.
She is aware of the social and cultural contexts of mental illness, and the impact our living and working environments have on health and wellbeing. Sheree is passionate about understanding and working usefully with perception, character and relationships.
Her professional background is complemented by studies and experience in natural medicine, which integrates well into her practise as a somatic therapist, coach and mindfulness practitioner.
Mindfulness classes
Sheree's mindfulness classes, Pathway to the Present Moment, are offered to small groups in Arrowtown, Southland and Fiordland.
Mindfulness is offered according to the principles found in Hakomi Mindful Somatic Psychotherapy. Sheree is keen to help you learn and apply mindfulness in your own life, and to help you find ways that enhance and support your learning.
Sheree's professional-personal journey
Sheree's therapeutic perspective is an integration of her professional training and her personal experience of adversity, love and life.
Sheree understands what it means to live with vulnerability and fear, and she understands what it means to decide to live a better life. Living well, with kindness and compassion, is very important to her.
Learning about love, life and better relating, has informed Sheree's personal and professional journey for over thirty years. She has learned to appreciate and respect the idea that crisis can create an opportunity we may not have perceived prior. Not an easy concept to embrace but worth the journey!
Sheree believes we have a deep quest to understand and to heal, and that adversity, when it can be accepted and worked with usefully, is often the motivation that propels us toward living with greater awareness and compassion.
Growth through understanding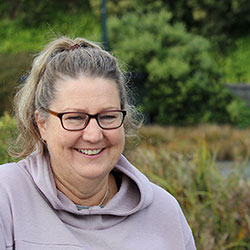 Without mindfulness and a capacity to observe our internal experience Sheree believes, there can be no understanding, respect or acceptance.
Being able to be vulnerable and in connection with who we are, whilst also allowing others to be who they are, requires courage and the strength to be vulnerable.
Sheree believes that being able to bring kindness and compassion to our connections with ourselves and with others, requires an integration of mindful awareness, courage and vulnerabillity. Being able to be genuinely kind requires trust in ourselves and in something bigger than us - whatever that means for each of us.
Ma te rongo, ka mohio; Ma te mohio, ka marama; Ma te marama, ka matau; Ma te matau, ka ora.

Through resonance comes cognisance; through cognisance comes understanding; through understanding comes knowledge; through knowledge comes life and well-being.